Full Mouth Restoration - North Vancouver Dentist - Blue Sky Dental
If you have not had access to adequate dental care in the past couple of years or even in a lifetime, you may be suffering from a variety of dental and oral issues including; worn out teeth, discolouration, missing teeth, and chipped or otherwise broken teeth. These issues not only affect your own self esteem or confidence, but it can also affect your health as you speak and chew. However you need not worry, if you are living in the North Vancouver area and have or are experiencing any of the problems or issues listed above, our team at Blue Sky Dental can help with all your dental and oral needs.
The solution to these dental and oral issues is a series of services under the umbrella of a treatment called full mouth restoration, which Dr. Negar Nazemi and the Blue Sky Dental team are happy to offer to you. Full mouth restoration is essentially a process that Dr Negar Nazemi and the team can do to reconstruct, rebuild, and restore your damaged, discoloured, or worn out teeth. Although this process can seem alarming and nerve-racking, rest assured that you are in good hands here at North Vancouver's Blue Sky Dental. 
Your full mouth restorative treatment starts like any other dental procedure. Through a routine visit, Dr. Negar Nazemi can examine your dental situation then proceed with visual and mechanical techniques via x-ray, to determine and evaluate the extent of damage your teeth have gone through. Depending on the severity of your situation, you may go through a variety of treatment options. One of which is getting a filling, where our Vancouver dentist will often use an amalgam based material on the teeth located in the back of your mouth. This is a popular treatment considering how they are hardly visible. Another treatment option is getting veneers, which is a custom-made material composed of porcelain or composite, that is put onto the surface of cracked teeth often located at the front of your mouth.   
By combining a variety of dental procedures and techniques such as fillings or veneers as listed above, along with periodontal and endodontic therapy, bridges, crowns, and implants, Blue Sky Dental can give you a healthy smile you can be proud of.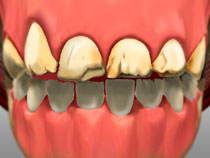 Last Updated On
2021-10-22